COLLABORATION
Fruit of the sharing of our values, the Sailor's Belt collaborates with prestigious figures in the field of boating, catering, hotels, or other sectors of excellence. A relationship with the maritime world, a particular elegance as well as an image wishing to be asserted in the smallest details lead us to create limited, exclusive and personalized editions for these emblems of our universe.
MONACO YACHT CLUB
The art of living by the sea, the showcase of Yachting and technological innovations on a planetary scale, Monaco is, through its breathtaking Yacht Club, a pillar of international sailing. Organizers of some of the greatest sailing races for decades, the Yacht Club de Monaco has decided to create an LCDM collection that reflects the values ​​of the principality and its strong maritime commitment.
A specific box, a YCM-engraved ring and a Monaco flag whipping, a belt available exclusively in the Yacht Club de Monaco shop.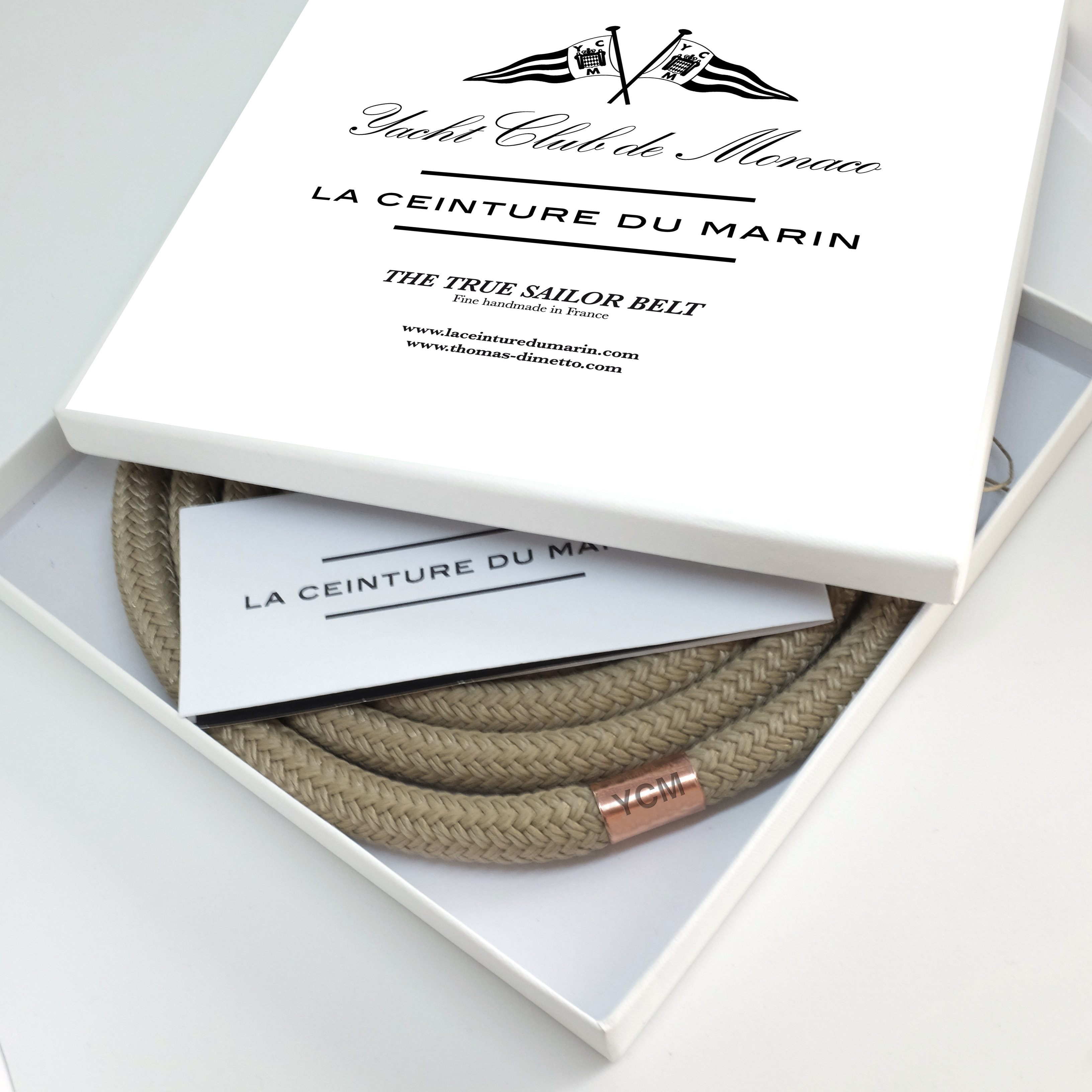 OUR POINTS OF SALE
AGEN
• AJ Theresa


AIX EN PROVENCE
• Ona Ethics


ANTIBES
• LVL Fashion & Jewelry


AUBAIS
• The Pipelettes of the South


BAYEUX
• Fernando 1978


BERLIN
• Esther Thomas


BLONVILLE-SUR-MER
• The Traveller's Counter


BORDEAUX
• Lilyaké shop


BRIANCON
• The angle of the bags


CAEN
• Headgear She does as she pleases


CALVI
• Impact


CAP FERRET
• First line


COLLIOURE
• Shop Pleins Sud


COPENHAGEN
• Nice market


DIG
• Britannia Decor Gifts


EZE
• Wonder of Wonders


FOURAS
• Stage Themes


GREECE - HYDA ISLAND
• Tsintziras


GROSS
• A Bit of foam


HAMBURG
• Retail Mind


AIX ISLAND
• Golden sand Marie Botella

LA BAULE-ESCOUBLAC
• O counter of emilie


LA ROCHELLE
• The Treasures of the Galleon


LE CROTOY
• Ready to Tea Break


LE TOUQUET-PARIS-BEACH
• Creators Club


• Elise's Suitcase


MALAGA
•Sam Newman


MALTA
• Camilleri Paris fashion


MARSEILLES
• Woman by Loletta


MERS-LES-BAINS
• Eighty MLB


MONACO
• Shop of the Yacht Club of Monaco


NOIRMOUTIER
• In the Pearl Garden


PARIS
• Harold Paris
• Ideally
• Roganel


PORTUGAL
• Porta 16


PERPIGNAN
• Balance


ROMANVILLE
• Poumpilata


SAINT-JEAN-CAP-FERRAT
• Yacht Shop


PROVENCE LOUNGE
• Charivari


SANARY-SUR-MER
• LTA


TOULOUSE
• Lilyaké shop


VENCE
• The French Workshop


VERRIERE-LE-BUISSON
• Unusual

SAINT-CYR AT MONT D'OR
• Joelle Bazot
• La Carborne


ST-MALO
• Malouin Malouine


ST REMY DE PROVENCE
• Arum


WIMEREUX